Experienced with commercial and residential roofing, we are capable of handling any project. Whether you've got a leak you can't seem to find, need a few tiles replaced, or want to have a new, energy efficient roof installed, you may count on us to do the job right.
Mike began his career roofing in 1988. He enjoyed working up the ranks of a local commercial roofing company. Mike continued to work as a journeyman roofer and taught Christy aspects of roofing along the way. Christy worked for a roofing company as a sales person for a number of years, expanding her knowledge of roofing materials and application. In 1995 Mike and Christy formed Mike Rabaino Roofing, INC. Working as a team over the years, they have kept their company small to allow for family time with their four girls. Mike says keeping the company small is one of the best ways to ensure quality workmanship as he is able to oversee the roofs the company installs. Mike and his stable crew of four journeymen roofers are able to handle large and small residential/commercial roofs.
Member of the National Roofers Association
Generable Liability and Workmans Comp
State Licensed CSLB #718002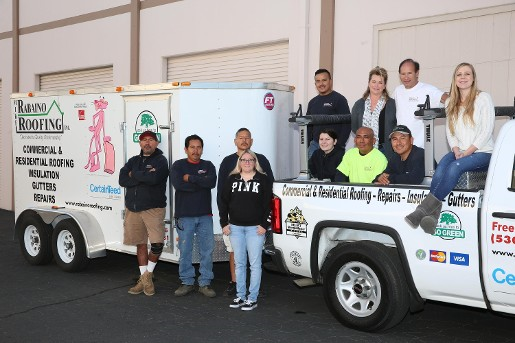 Voted Readers Choice Best Roofing Company in the Davis Enterprise!
2012 2013 2014 2015 and 2016